What's next for Danelle Plaza in Tempe?
Big changes coming to the southwest corner of Mill and Southern Roads in Tempe. It's hard to say when.
The shopping center, known as Danelle Plaza, is currently home to several small businesses, including Yucca Tap Room and Double Nickels Record Collective. But it's also home to a powerful alternative art scene It includes an event called Tempe Art A Gogh-Gogh, as well as an animated scene of murals and installation art.
"It's kind of like the last Mecca or the outpost of original thought and creativity," says Evan Liggins of Danelle Plaza. Liggins is a staple of the Tempe arts and music scene, and Tempe Art A Gogh-Gogh is his brainchild.
Recently, the area's Brentwood-Cavalier neighborhood association circulated a summary of two proposals for Danelle Plaza, which is owned by a diverse group of stakeholders and has long been sought after for some type of mixed-use development. (There's also a floating chart that includes a fictional parody-style plan for the arena, which makes people wonder what's going on in space.)
The city has approximately 3.14 acres on site, including the building with most of the murals. In recent years, Danelle Plaza has been discussed at various meetings of the city's arts and culture committee, and the design class at Arizona State University taught by Professor Elena Rocchi was created. Conceptual view of the arena Focusing on art, music and small business.
On March 19, the city issued an Application for Qualifications (RFQ) inviting "all eligible and interested parties" to submit proposals to purchase its land and construct a mixed-use development at Danelle Plaza.


But Tempe canceled the request for quote on June 23 after reviewing plans submitted by two development teams in April.
"The request for quote was canceled in part because the city believed the process would benefit from a more comprehensive request that would require more details from responding companies," a city spokesperson said. Phoenix New Times in July.
City officials have not publicly disclosed which proposals they have reviewed, asserting that they are not required by city code in cases where another RFP is issued within six months.


Instead, they plan to make the bids "available for public inspection" once the contract is awarded under a subsequent request, according to a July 21 email to the new era.


So far, this petition has not occurred.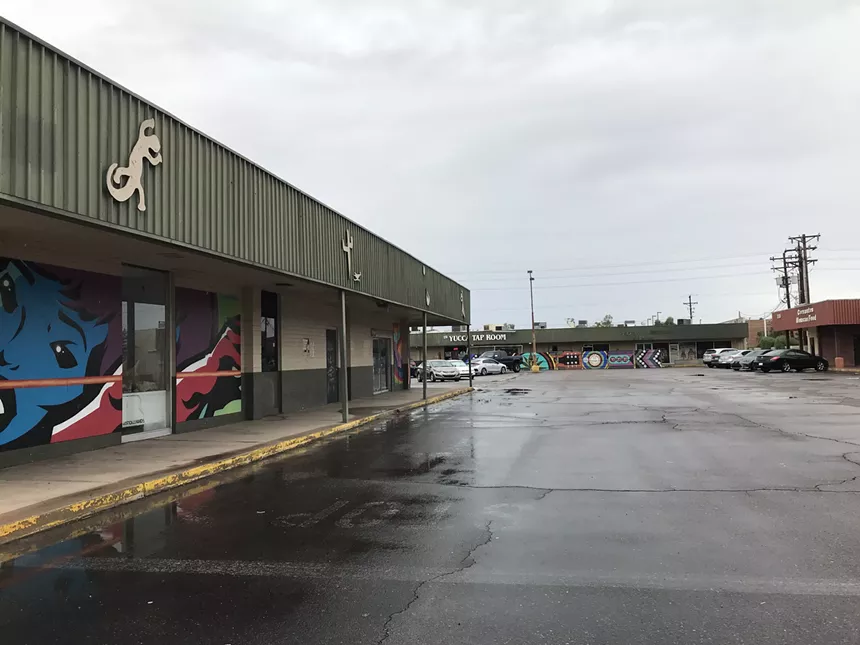 Meanwhile, representatives from the development teams met with Neil Miller and Paul Hubel, president and vice president of the Neighborhood Association.
After those meetings, Miller went on the neighborhood association's Facebook to share her own summary and analysis of each plan. It is a private page that is restricted to residents of the area, but Others picked up the information And they began to circulate it in other circles.
One team is Miravista Holdings, led by Brad Wilde, the developer whose other projects have included Tempe Marketplace. The other team is Guina Affiliated Developers, which is headed up by Eric Guina.
Guina owns several packages in Danelle Plaza. So did Rodney Ho, owner of Yucca Tap Room, who is part of the Miravista Holdings team.
the new era I reached out to both Wilde and Gwenna, but neither of them provided us with a copy of their show. Wilde cited a confidentiality agreement, and Gina referred us to public relations specialist Jason Rose, who declined to comment on the record.
Without these documents, it is impossible to know if the plans submitted to the neighborhood association match the plans submitted to the city.
Miller's summary notes that there are significant differences in schemes, particularly in the area of ​​housing. The Wild Group wants only 200 condominiums, according to Miller, while the Guina Group wants 1,100 condominiums.
She has voiced strong support for Wilde's plan, citing his credentials and her concerns about what the more than 1,000 housing units might mean for the area's traffic and the plaza's local cultural scene.
"We don't want Danelle Plaza to become another Mill Street," Miller says. "This is not a difficult choice, or even a close call."
Tembe has been abuzz with development news lately. The city is studying the Arizona Coyotes' proposal to create a plaza and recreation area near Brest Drive and Rio Salado Parkway, while also looking for a developer for the Hayden Flour Mill site on Mill Avenue and Rio Salado Parkway.
Miller says she hopes community members will pay special attention to Tempe's plans for future development. But that means constantly following city council agendas, and watching to see if Tempe issues a new Request for Quotation or RFP for its plaza parcels.
Like many local creatives, Liggins plans to talk about it. "There is no other place like it in Tempe," he says. "We really need to try to keep this organic spirit going."
.