'That's not what Melbourne does': Crossing the line between protest and threat | Victoria
As she walks away from protesters criticizing pandemic laws on the steps of Victorian Parliament, Independent MP Catherine Cumming begins singing Depeche Mode.
"People are people, so why should that be the case," she sings to music pumping from a nearby speaker, "You and I must get along horribly."
It's a fitting song for an awful week in Victorian politics, in which the daughter of a member of Parliament is allegedly assaulted and cramped. Brought to Spring StreetSeveral lawmakers, including Prime Minister Daniel Andrews, have made death threats.
After this week, those who oppose the government's pandemic response are no longer seen as an idiot group of conspiracy theorists who spend too much time on social media; There are real fears that one of the state's 128 lawmakers will be seriously damaged.
The brutality, threatening behavior, and coordination between seemingly disparate groups has been piling up for 18 months, and has left some MPs deeply irritated. What if the same path continues for another year, until the November 26, 2022 elections?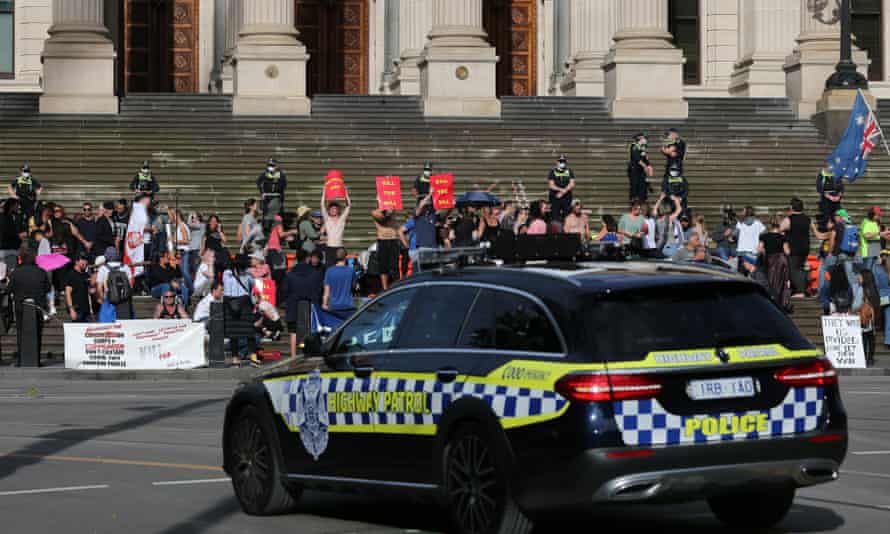 Cumming, who has spent more time than any other lawmaker with the protesters, does not believe the out-of-parliament group is motivated or condoned by the violence.
Cumming says she opposes vaccine mandates. "I will not support any legislation that would give this government more power to continue to exist in this separate community," she told Melbourne radio station 3AW on Friday.
She says that those who appear to threaten to hang politicians – surrounded by others who feel simply let down by the government – do not represent the views of most protesters.
"Anyone who wants to harm a member of parliament or their family or threatens to do so is wrong," Cumming says.
"That is not what we are about here in Victoria, not what Melbourne is doing. We are kind and compassionate people, and no one should be threatened with violence, or live in fear, or be afraid."
But many of Cumming's classmates are afraid. On Thursday night, the daughter of her fellow Senate member of Parliament, Andy Medec of the Animal Justice Party, said she was chase and attack While spraying paint on an anti-vaccination poster in Melbourne.
Medik initially said he believed his daughter had been attacked for his support of the government's laws on epidemics.
"Like many others, I was very concerned about the comments, threats and intimidation made against me and my family, as well as for the staff and of course my colleagues," he said in Friday statement.
"And now, my worst fears have come true… I have reason to believe that this can be linked to my role as a Member of Parliament and the positions I am taking regarding the response to the pandemic.
"I… am asking people to understand and respect the fact that comments, insults, intimidation and incitement can have very real and devastating consequences."
Medik later clarified on ABC Radio that it was not clear if the man had identified her as his daughter.
Even before the alleged assault, Medik was feeling like a man under siege.
Like all senators, he has been faced with a coordinated campaign of correspondence since mid-2020, urging him not to work with the Andrews government to pass pandemic legislation.
The sweeping bill started a torrent of abuse, got worse during state of emergency extensions, and reached its most toxic state since the pandemic laws were passed, according to a Meddick spokesperson.
Meddick's spokesperson says the volume of threats has become so great that they have turned off his office phone, removed his office postal address online, and were considering not reopening his electoral office to the public (it is currently closed during relocation, but not due to protests).
Before the mailing address was removed, Medik received mail that included a condom and a postcard threatening his family with kidnapping.
Some threats are specific; Meddick, for example, was warned that he would never be able to walk his dog safely again on the beach in the coastal town of Torquay, near his home.
Its staff have also been threatened on social media, which means they are now removing their IDs when leaving Parliament, and have been escorted or kicked out of the compound this week to avoid protesters.
Medik has already installed security cameras in his home, but since the protesters arrived at the house last week, he now has guards permanently stationed there. He fears that a member of Parliament will be killed, as happened in the United Kingdom.
"we [are] "Just hours before the assault," says his spokesperson,
"We will not only think about the security or protection of employees for the coming weeks – that will be long-term."
Senator Fiona Patten of the Reason party was evacuated from her electorate earlier this month as police filtered out a suspicious package containing threatening letter and white powder.
In the past month, Patten, Medek and Green Party MP Samantha Ratnam have received the bulk of the threats, many of them personal; Patten has been targeted for her advocacy of sex workers, Meddick for his transgender children, and Ratnam for her ethnicity.
This is the iceberg below the edge. For every public threat, such as Andrews canceling a press conference due to safety concerns, a man waving a crossbow outside Parliament, or the harassment of health officials Brett Sutton and Jeroen Weimar by protesters, there are dozens of protesters.
Thursday , age mentioned Two men with alleged links to the far right, one of whom is accused of making threats to Andrews, have been indicted by counterterrorism officials. While Victorian Liberal MPs were seen at the protests earlier in the week, opposition leader Matthew Gay made clear later that day he no longer wanted them to attend.
While condemning any form of violence, the Prime Minister, Scott Morrison, was accused of "double-speak" and expressing sympathy. Statements about the protesters which were similar to those made by former US President Donald Trump about Charlottesville.
His spokesperson says Meddick previously received a few hundred emails about bills that could be considered controversial, but his office received about 35,000 emails about pandemic legislation, many of which appeared to be automated, and very few that weren't threatening or stinging, making it difficult for Staff reply to real correspondence.
Ratnam has received around 75,000 emails regarding the pandemic laws. She fears that growing discontent with institutions and adoption of conspiratorial ideas could lead to the election of a far-right candidate to Parliament — especially given that the country uses a plural voting system, and is the only state in the country to do so, meaning it is possible for someone with less than 1% of votes to be elected.
Lydia Khalil, an expert on extremism and a researcher at the Lowy Institute and Deakin University, says that while most protest participants do not condone violence or are extremists, failure to condemn threats to politicians can undermine democracy.
The cross-section of people drawn to protests meant that people who firmly believed in conspiracy theories were protesting alongside those who had lost faith in the government but did not believe that 'hidden nefarious forces were driving the events'.
"[Conspiracy theorists] We truly believe that these elected officials and public health officials are harming society.
"When you think you are acting against evil, it is as if the ends justify the means, and what would normally be considered extreme action is not."
Andrews' view as a dictator — repeatedly reinforced in conservative media and opposition MPs — further erodes democracy.
"When you call him a dictator, it delegitimizes him as an elected official, and when someone is delegitimized, it opens up the opportunity for people to act outside the law."
On Thursday, protesters were almost demure outside Parliament, where Andrews' bill Hit a new obstacle. The only obvious threat, "Kill Dan Andrews," is written in green chalk on a park bench a few hundred meters away.
A woman stands alone in the crowd, holding a banner made of laminated paper that once decorated her café. On Monday, she flew three hours from her home in the Victoria area to protest, and she's been here ever since, spending nights sleeping on the floor outside Parliament.
Last month, she closed her store because government regulations mean they must refuse entry to unvaccinated customers.
She's worried, upset, and has a lot to lose – she hasn't decided yet whether she should pay next month's rent, which will be due on December 1, or close the doors permanently. But she says she is not interested in violence and has not witnessed any violence since joining the protest.
"I don't think anyone here has any intention of doing anything violent," she says.
Otherwise, we would not stand here on these steps of peaceful protest. We'll burn things."