Ted Cruz Says Nominating Black Woman To Supreme Court Is 'Actually An Insult To Black Women'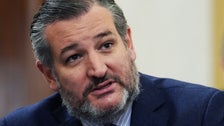 "The fact that he's willing to make a promise at the outset, that it must be a Black woman, I gotta say that's offensive," the Donald Trump apologist said on his podcast, "Verdict with Ted Cruz."
Cruz described Biden's promise following the retirement of Justice Stephen Breyer as "actually an insult to Black women," suggesting the president was "not even pretending" to say his nominee would be the most qualified. "He's saying, 'If you're a white guy, tough luck. If you're a white woman, tough luck. You don't qualify,"" Cruz added.
Cruz's comments went viral on Twitter for the wrong reasons.
"The only thing insulting to this Black woman is Ted Cruz thinking he speaks for us," Rep. Marilyn Strickland (D-Wash.) responded.
Rep. Don Beyer (D-Va.) accused Senate Republicans of "disgracing themselves" with the attacks on the "important milestone in American history."
.