T20 Explosion Round: Bears, Hawks and Sharks reach the quarter-finals
The Birmingham Bears, Hampshire Hawks and Sussex Sharks rounded out the quarter-finals with victories on the final day of the T20 Blast in the group stage.
The Bears and the Hawks both blasted off to beat Northamptonshire and Glamorgan, while the Sharks surprised Kent in his level.
Leicestershire's Josh Inglis made an exciting century by denying Worcestershire an eighth place.
Somerset also dashed Gloucestershire's hopes as they secured a quarter-final win at home.
Sarri, who already played his last game in the group stage on Friday, narrowly missed out.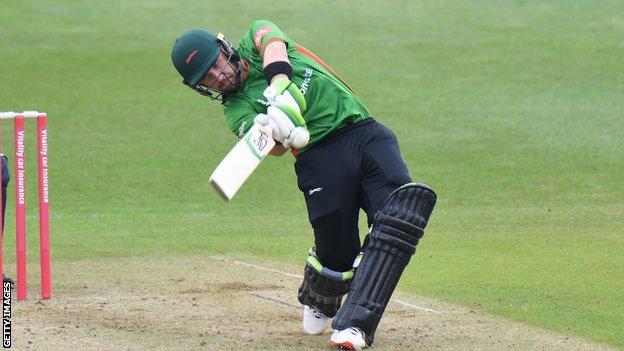 Bears and hawks get the job done early
Birmingham and Hampshire both waited anxiously after picking up early victories.
D'Arcy Short (69) scored for the Hawks as they comfortably chased away Glamorgan's 184-4 aggregate despite Australian Marnus Labuschagne scoring 78 of the visitors' 47 balls. Hampshire is now facing a trip to the Notts Outlaws.
Birmingham's newcomer Chris Benjamin made 60 unbeaten matches from 34 deliveries as they reached 191-6 against Northamptonshire, with the Steelbacks answering 177-8.
The Bears started the day behind Worcestershire in the North Group standings, but booked a date in Kent after the Rapids lost to Leicestershire.
Worcestershire set the Foxes with a competitive 170 to win at Grace Road, but the hosts easily chased the total as Inglis hit a stunning 118 off 61 balls with 10, four and eight balls.
Hampshire, who won their last five games to give themselves a chance to advance, snuck into the top four in the southern group thanks to the failure of Gloucestershire at Taunton.
Tom Lamonby ran out for 90 in the final as Somerset scored 183-7. In response, Gloucestershire fell 23 short runs at 160-6, as the hosts secured a quarter-final match at home against Lancashire, who reached the playoffs. win over Yorkshire on Saturday.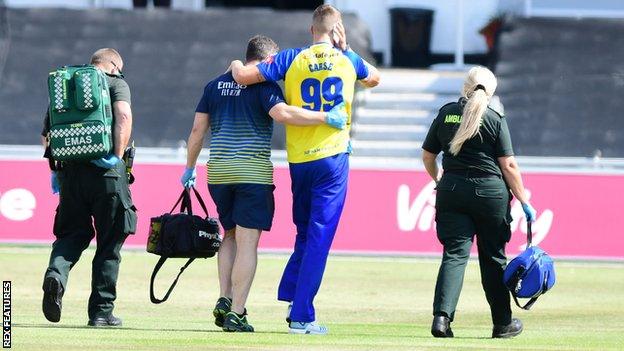 221
The Sussexes knew victory would be enough to see them advance – and produced a duly dominant performance against Kent.
The Southern Group leaders were limited to 130-7 at Canterbury, with Sussex and England peaceman Jofra Archer Bowling three times in his first competitive match since May as he recovers from an elbow injury.
The Sharks floated to 134-6 in their innings, winning four wickets to set up a meeting in Yorkshire.
North Group winner Nottinghamshire had a 78-round hit on Durham after Ben Duckett helped the 74th from 41 balls, the homeowners, to a 221-4 over Trent Bridge.
Calvin Harrison, the outlaw shooter, won 4-36 as all of their opponents went out for 143.
The match also saw England and Durham bowler Braydon Cars need seven stitches after that banging in the ear With a powerful low kick from Alex Hales.
There was also a rare victory for Middlesex, who outlasted Essex by nine runs with former English bowler Stephen Fenn, 3-25.
Sunday results
Northern group:
Birmingham Bears (191-6) beat Northamptonshire Steelbacks (177-8) by 14 kicks
Notts Outlaws (221-4) beat Durham (143) by 78 points
Leicestershire Foxes (171-3) beat Worcestershire Rapids (169-6) by seven wickets.
Southern group:
The Essex Eagles (160-9) lost to Middlesex (169-5) in nine games
Hampshire Hawks (187-4) beat Glamorgan (184-4) by six wickets
Kent Spitfires (130-7) lost to Sussex (134-6) by four wickets
Somerset (183-7) beat Gloucestershire (160-6) by 23 points
What's Next?
The T20 Blast Quarter Finals will take place August 24-27 and Finals Day on September 18.
Attention in domestic cricket is now turning to The Hundred which begins on Wednesday 21 July when Oval Invincibles hosts Manchester Originals shows at Women's Hundred live on BBC Two.