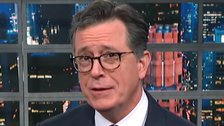 Stephen Colbert Introduced Mark Meadows, former White House chief of staff to Donald Trump, with a ridiculous alternative title for his new memoir "The Chief's Chief" on Wednesday.
In his upcoming book, Meadows doesn't write the words of insults when he remembers Trump's swearing response He was told that he had tested positive For COVID-19 just three days before his first election debate of 2020 with Joe Biden. The second test came back negative and Trump continued with his schedule. He was taken to the hospital after contracting the Corona virus days later. During the discussion, Trump denied what was reported that he was infected with the Corona virus.
Instead, Meadows, citing his devout Christian, said Trump's reaction was forthcoming: "Hey spit, you gotta cover me with trucks."
Colbert couldn't help but laugh at the idea.
"Meadows, of course, is happy to help undermine democracy but he won't swear," the comedian joked, before suggesting a new name for the memoir.
"I'm a duck piece of oil with a Grasshole my nose up to the rump."
.