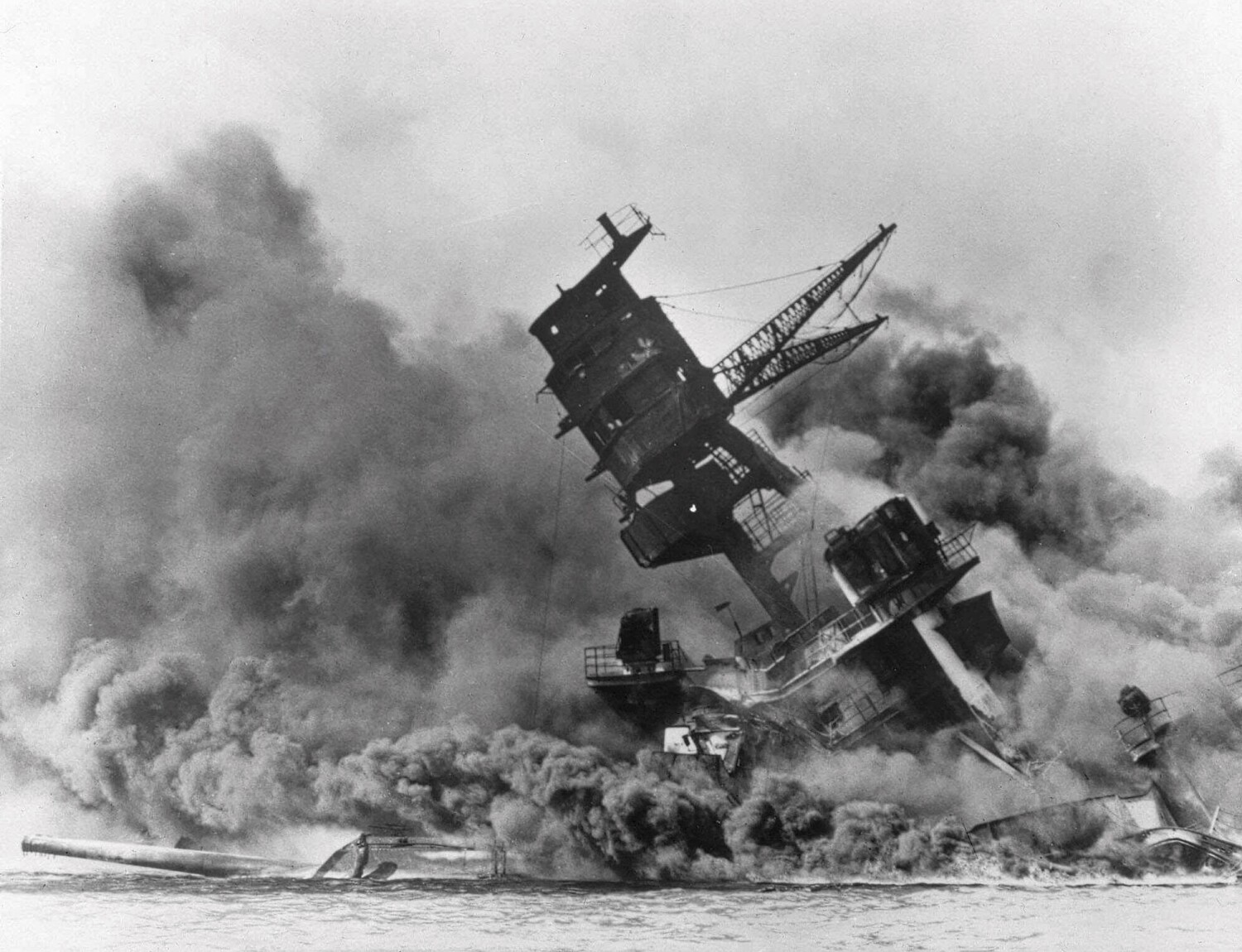 Sacramento –
There are 1.6 million Californians today alive when the Japanese bombed Pearl Harbor 80 years ago, sending America into World War II.
Perhaps half of them were old enough to remember that terrible day — "December. 7, 1941, a date that will live in disgrace," as President Franklin D. Roosevelt eloquently called it.
I was four years old, playing with my little brother at the bottom of a cliff behind our hilltop house in Santa Barbara when my mom rushed down, very hard. Kneeling at face level, she gave a lecture: "Remember this day. It's December 7. December 7. It's historic. America has been attacked. … We are at war." And she kept repeating it.
This is the only reason I can remember the actual day Pearl Harbor was bombed.
I remember other things about the war.
Shortly after the Pearl Harbor attack, on the evening of February 23, 1942, a Japanese submarine appeared north of Santa Barbara and bombed the Elwood oil field where my father was working with a crew. No one is hurt. But my father was arrested.
"They gave us pitchforks and told us to stand on the beach and fend for it," I remember holding a worried mother when he finally got home after sunset. "What was I supposed to do with the pitchfork?"
This was scaring practically everyone along the coast. The enemy could be on our shores any day. There was a blackout imposed by the neighborhood "guards" every time an enemy air raid was suspected, which was often the case.
A warden reprimanded my mother for using a flashlight while feeding my newborn sister. She angrily invited him to feed the child.
Soon we moved to Ojai and my parents bought a small orange farm for $9,000. That's what good property cost when only 7.5 million people lived in California.
War Department She took over the luxury Ojai Valley Country Club to train army infantry battalions. Often the cart soldiers of our farm walked to the shooting range on the mountainside. My brother and I handed out fresh oranges. Some soldiers happily took them. Others acted as if they had never seen an orange before.
My generation is the last who will have any personal recollection of the war that made America a great power and California a nation state.
"World War II internationalized California. We became Gibraltar in the Pacific," the late California historian Kevin Starr once told me.
For a large majority of us, the war years were the most significant of our lives.
Practically everyone knows a family that lost a father, a brother, or a son in combat. The father of a first-grade friend was killed. A teacher's husband was injured.
The son of my father's close friends came home a heroic naval lieutenant, who discovered that his wife was having an affair and killed himself. His two sons – at my age – were brought up by their grandparents.
In remembrance of the last Veterans Day, Governor Gavin Newsom spoke of an ancestor who was captured in the Philippines, escaped captivity, returned home after the war and killed himself.
"His story … a story that can be told over and over again," the governor told reporters.
America lost 407,316 dead in the war, including 17,022 from California.
Do you think there is a supply line crimp today? During World War II, only 139 new cars were built. Instead, car factories made bombers, tanks, and jeeps. Virtually anything a civilian would want to buy was rationed: gas, tires, butter, sugar, bacon, nylon. … manufacturers have stopped producing radios, refrigerators, vacuum cleaners, and washing machines.
One feature that will always be remembered for the war years is the national unity that they inspired. Everyone banded together and sacrificed, committed to a common goal: victory over Hitler and Togo. "Polarization" was not in the vocabulary.
But the unit produced something infamous: the rapid congregation and confinement in segregated concentration camps of 110,000 Japanese Americans along the coast, most of them US citizens. The US government feared that they might be collaborating with the enemies.
california come. General Earl Warren, who ran for governor, led the illegal prisons. Years later, he apologized, writing in his diary that "that is inconsistent with our American concept of freedom and the rights of citizens."
U.S. Representative Doris Matsui (Sacramento) was born in a concentration camp in Arizona-Boston, near Parker.
"There was a sense of hurt and disappointment from my parents, but without losing the sense that they belonged here, this was a great country," Matsui told me. "A lot of Japanese Americans felt this way. I didn't feel bitter."
Coincidentally, a lifelong close friend of mine had been living in Parker when Matsui was born because his father had been working at Boston Camp as an inspector for detainee camouflage nets. His job was to ensure that the camouflage did not contain signals of enemy aircraft.
In 1945, that friend was – Ron Johnson, retired president of the Fresno Department of Performing Arts He moved with his family to Hamid. His deepest memories were of World War II when Roosevelt died.
"I was on my way home from school and it was so quiet you could hear a pin," he said. "But everyone had a radio. If you saw anyone they were crying. It was so sad."
Another friend, retired teacher Jean Ryan of Morro Bay, remembers walking with her mother at Big Basin Redwoods State Park near Santa Cruz one day and hearing the sirens.
"I thought it was a fire," she says. Mom said it was the end of the war. I told her: Come on. Dad can go home now." He was in the Merchant Navy, ferrying supplies to the troops.
If she had been here today, my mom would have said, "As much as you have and stop the tummy ache."