Rep. Madison Cawthorn Says He Talks Almost Daily To Trump, Who's 'Like A Father'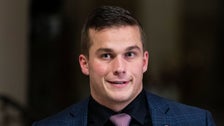 Not a single city was burned to the ground.
But maybe it's something Donald Trump told him. Cawthorn claimed he talks to the former president nearly every day, and that Trump had become "like a father" to him. He also said that Trump instructs him on "foreign policy."
During the interview, Cawthorn called for the federal government to seize every Chinese asset on US soil for what "they did to the world."
And he declared that infectious disease expert and White House Medical Adviser Dr. Anthony Fauci "Deserves to spend five years in jail."
Cawthorn called the suit ridiculous and referred to Jan. 6 rioters as "actors."
.