Click to enlarge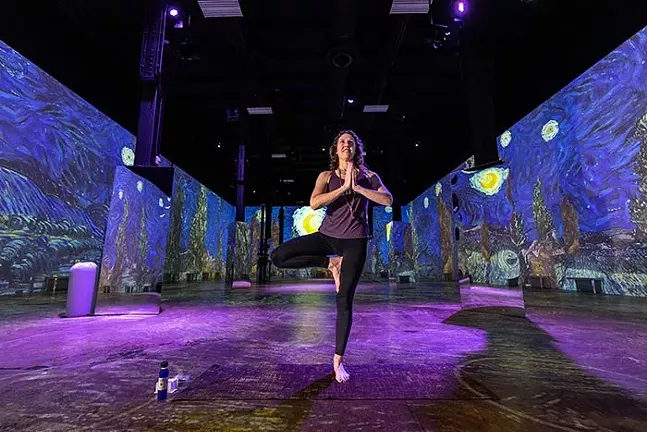 The key word is "experience". Van Gogh's Immersive Gallery is not a gallery of paintings, but a 35-minute "immersive digital art experience," designed by Massimiliano Siccardi with great assistance from Dutch painter Vincent Van Gogh (1853-1890). In a repurposed warehouse on the north side, visitors stand or sit in a darkroom as a steady stream of digitally projected images from dozens of Van Gogh paintings stream across a four-wall and floor-to-wall screen.
Van Gogh famously could not sell his own paintings. Here, he's an artist and a commodity at the same time, and he's made remarkable heights of extra branding, albeit a few steps off the brush. His life's work is being transformed into Pixel Dancing which is a commercial and new medium. Tickets range from $99.99 for a VIP option (including a branded pillow) to off-peak hours for $39.99.
Early rising types can opt for Gogh with Lifeway Kefir Immersive Yoga ($54.99), which combines artistic presentation with standard vinyasa flow. Yogis are only required to "feel good, make the most of it all", because the film can be enjoyed in full interest after class, and in fact, the artwork is never mentioned again. So clients bend, twist and stretch, while trying not to be distracted by the inevitable screens. Even the floor is lit, causing the carpet to break into the sky and windmills and Van Gogh's turbulent vision. Working in a colorful light bathroom has its charms – and distractions – but yoga and presentation coexist rather than combine them into a larger sum of the two parts.
Not content with just the show, the film breaks up the plates, as a close-up of a wheat field decomposes into a streetscape, which might then be broken into the artist's scribble. (For the old-fashioned patron, signs hung in the hall depicting entire panels with some explanatory text.) Often, sides are moved inside the panels—a train moves, flowers sway, flies crawl. As with a TV above the bar, the eye persistently moves to the static motion in stillness. But staring at the flickering candle in Van Gogh's hat reduces the focus of the viewer and can reduce the effect of the overall work. Strict "totalitarians" should be advised: the art form sold here is an ever-changing style. Movement is required, as if to admit that today's spectator cannot simply stand indifferently before a static image, even one that is inherently dynamic and attractive like Van Gogh.
For more sensory stimulation, the accompanying soundtrack plays mostly instrumental pieces and two random pop songs, including Edith Piaf's "Non, Je Ne Regrette Rien" (Van Gogh himself seemed particularly prone to remorse…). And like all the carefully choreographed audience pleasers, the presentation builds on Van Gogh's biggest hit…Error…Painting. On a black screen, colorful dots that impress, build and spin, like the opening chords of a fan-favorite tune. Yes! Starry Night!
Despite the sound of ballerinas at the door — "cute, moving images that highlight the brush strokes, detail, and color" — this presentation tends to flatten the artwork, creating a sense of being trapped in a TV, immersed in a music video, rather than an oil painting. Just a few brief seconds past this – all the more when hundreds of purple irises frantically multiply, becoming a psychedelic panorama of intense Van Gogh-ish colour. This abstraction is more visually interesting than the checkered parade of paintings and painting fragments.
But more work is needed towards this effect all the time. Another attempt at figure-breaking—in which Van Gogh's various self-portraits are reflected in the dark waters of "Starry Night Over the Rhône"—is a cheesy attempt, a hasty blend of the greatest hits, a bandaged ear on a starry night.
Van Gogh's immersive gameplay is certainly provocative: questions that come to mind just as quickly as sunflowers appear on and off screen. Is it art? Is that fair to Van Gogh? Is it Mounir? Could the two million visitors around the world be wrong? How much money is made here? Will this friend love the ticket as a holiday gift? Is there a "correct" way to appreciate fine art? How about all the Van Gogh posters in the bedroom? Is reproduction less important than standing in front of the actual painting? One is open to everyone, and the other requires additional commitments regarding time, travel, and expenses. discussion.
Click to enlarge
Relatively close, just a day's drive away, is Van Gogh's painting "Starry Night" that hangs in the Museum of Modern Art in New York City, where a visitor might hope to catch a glimpse of it through a group of other visitors taking selfies. For many, the joy of art is closely related to the modern experience augmented by technology—self-portrait proofing; added music ("I don't regret anything…"); Steam rising in the "Potato Eaters" game that makes it look more "realistic"; The inevitable exit from the gift shop where additional spells – mass-produced in China using other high-tech magical techniques – can be obtained for Done Art for exorbitant amounts. (Indeed, Immersive offers a solid selection of Van Gogh-ish geegaws, from bucket hats to flasks, but MOMA's High Temple is no different — need a "Starry Night" umbrella?)
The immersive Van Gogh is, as advertised, an entertainment expertise, A pre-programmed spectacle with intellectual heft that we believe the high art and earnest knowledge embodied in museums conveys. It's a Laserium with classical music, an IMAX sinking to the ocean floor, or a longtime traveling sideshow that promised "the wonders of exotic lands." Such endeavors are totally artificial, but you know getting in, right? Each visitor will get what they want – whether it be fear, boredom, delight or disgust – and in the end, there is only one important question: Is standing in a lit box of Van Gogh moving paintings worth $60 to you?
---
Van Gogh Exhibition: The Immersive Experience
.
Runs until February 2022. Lighthouse Artspace. 720 E. Lacock Street North Side. US$29.99-99.99. vangoghpittsburgh.com
.