'I live in a plane that I have turned into a house'
Some of the first matchbox toys I owned were planes, but the first plane I got into was one my father rebuilt. He was an aircraft mechanic and traveled as a pilot for Pan American International for many years.
On the weekends, I'd help my dad while he was working on a Piper Tri-Pacer that crashed. I must be 6 or 7 years old; It was great to be a part of that. And when that was completed, it was also the first plane I ever boarded.
In 1973, when I was 12 years old, he started the TV show The Magician. At the end of each episode, Bill Bixby's character was piloting a plane in a Corvette. I loved airplanes, Bill Bixby was really charming and able to get along with kids, and of course the Corvette is really cool. It inspired me, and my goal became to get a pilot's license while I was still in high school so I could take my school friends to fly.
I lived in the Dallas-Fort Worth area, and Six Flags and other playgrounds were nearby. So when I got my pilot's license at 18 – still in high school – I was going to fly with my friends from Arlington Municipal Airport and show them the different scenery in the area – it was really cool.
I dreamed of renovating a plane and turning it into a house, but I left them aside, got married and had children. Building a family and a career was great, I did a good job and made a lot of money writing software.
But when my wife and I broke up on April Fools' Day 2011, I decided it was time to do what I wanted to do. I remember a friend saying, "You have your freedom now." This is how Freedom began – my project to make a house on a plane.
I started that day. The first thing I did was look for a plot of land to put a plane on, because you can't find a single plot wherever you want. The airport I found had been open for 30 years and the piece of property was in the southwest corner, with roads on each side.
After that, I started looking for planes in a junkyard in Arizona. They wanted more money than I was willing to pay, but most importantly, shipping is very expensive. I started with a big idea to buy a Boeing 747 and was able to find one for about $150,000, but shipping costs would have been around $500,000. I had to find a plane that could be put under the tunnels so it could be delivered.
A friend of mine had a friend who knew about the Spirit Airlines DC-9-41 in a Florida mall. The back had flight simulators but in the cockpit everything was brand new; It was recreated from 1979. Every part was there. It is in beautiful shape. Its purchase began in May 2011, and the first half finally arrived in January 2012.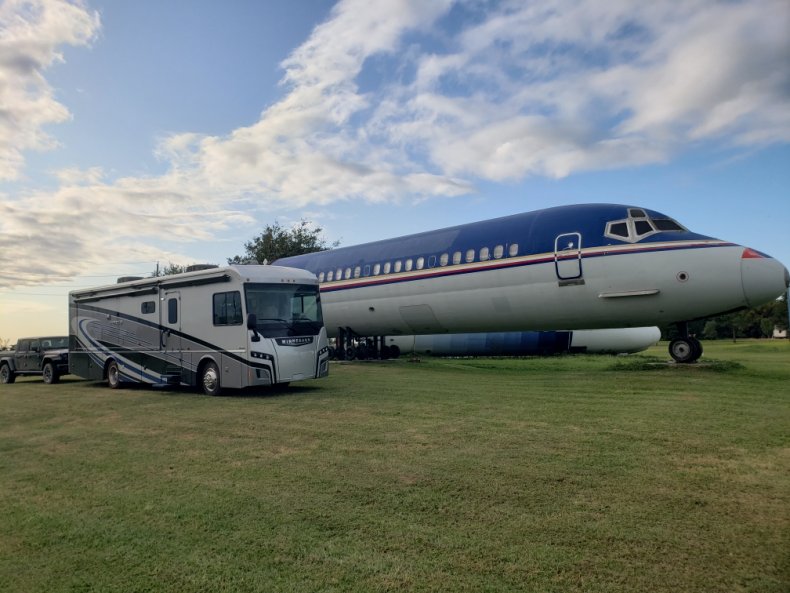 In the meantime, I bought half of an Arkansas McDonnell Douglas MD-80 passenger plane, 60 feet long because that's the length I was able to ship on a truck. When I arrived at MD-80 in December 2011, I showed my kids 8 and 10 at the time. My daughter said, "Dad, that's really cool. You'll love it. I live with my mom!"
The MD-80 was destroyed from the inside and from the corner, but as soon as we moved it to four support pillars, I emptied it, tore up the carpet and laid a wooden floor. Next, I refitted the side panels and a few of the original top boxes.
This plane has three bedrooms, a bathroom, a living room, a dining room, a kitchen and an office. The cockpit is the same, and below it is the wine room. Behind that is the library and the former cargo compartment is now a playroom for my children.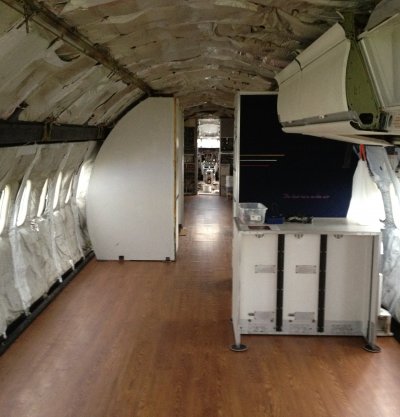 I created one wall between the first bedroom and the living room, and a second wall behind the shower and master bedroom. I removed the roof because it restricted my height and used part of it. This is what I currently have as my kitchen countertop. Because it is not the full plane, she put a wall at the end and behind it a beautiful patio. I even have a life size chess game there.
I installed LED lights, which give you the ability to change the atmosphere and have 5G WiFi in the plane. My air conditioner and lights are all automatic. The water well and sewage system was installed in 2012 and the idea is to introduce solar energy so that I am completely off the grid. This takes a lot of time and is expensive, so now I'm connected to the local electrical service.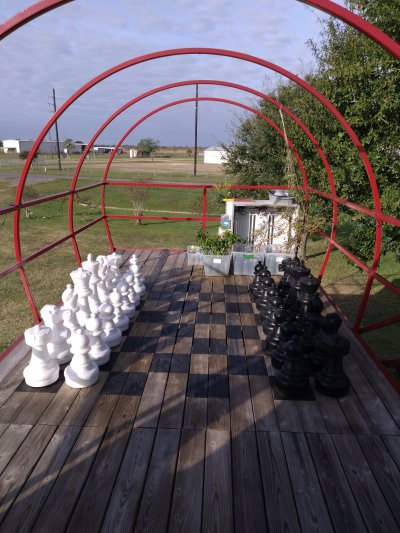 The general plan is that I'll have a hangar built right next to the MD-80 so that the plane looks like it's coming from a hangar, and that way, it will look like a whole plane for the people driving next to it.
Spirit Airlines DC-9-41 will be flown and I will add the rear end so it's a full-wing aircraft; 120 feet by 10 feet long. It will contain a theater, arts, crafts and music room, and a gourmet kitchen where the suites are located. You'll be able to get out of the kitchen and into the suites.
On the other side, you'll be able to look down at the wing, which is going to be cut off, and I'll have trains and model cars there, so when you look down, it looks like you're flying far above the ground. The back section will contain the sitting area and master bedroom. I should have a big closet for my girlfriend's clothes and shoes.
I moved to the MD-80 the day the water was turned on in January 2012. So I've been living on this plane for 10 years and still work on it every day. For example, I'm going to change the floor, because it's starting to look old.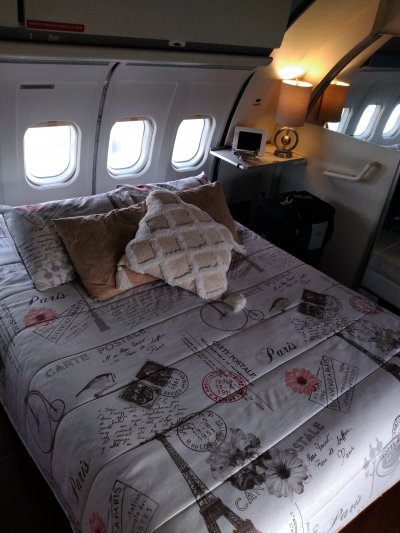 All in all, it has cost me less than $250,000 to buy halves of the plane and property and do the renovations so far. I think I paid about $65,000 per plane including all shipping costs.
I won't live here forever, this is just the current stage of my dreams. My next goal is to build a castle on a lake. I've seen a place I like, but I don't want to feel like it.
Before I started my project, I carried a book for a year full of ideas. A lot of my friends told me not to do it because it was a waste of money, and they asked me to buy a house with cash and be done. I could have done it, but what's the point? Life is about the journey not the destination.
Joe Axelen lives in his renovated plane house in Brookshire, Texas. You can find out more about him and his plane at home at facebook.com/PlaneHome
All opinions expressed in this article are those of the author.
As told to Jenny Howard.