The biggest online classified platform in the country, the Quikr app, was launched in 2008. This worldwide popular app is currently providing its services for various domains such as automobiles, consumer goods, job openings, real estate, home stuff, etc. Due to its popularity, numerous app development firms are developing OLX clone scripts. Here we are going to the whole analysis of quikr or olx business model and revenue model.
Quikr has applied a string-of-pearls acquisition approach, unlike the other private firms, to become at the top. 
This classified mobile app helps users purchase, sell, and rent a broad category of various things. Apps like Quikr and Olx assist advertisers, online marketers, and freelancers for work and business promotion and target customers in a cost-efficient and effective manner.  
This article will help those who want to invest in developing the Quikr or Olx clone script for launching their venture. Here, we will talk about all the essential aspects considerable for creating a classified mobile app.
Let's Talk About the Quikr App!
A common point where demands and solutions meet via buyers and sellers. Here, sellers can post their services for free they want to sell, and buyers can get what they want from the seller directly. In simple words, this app facilitates the trade of utilities between sellers and purchasers. 
Various apps follow the business model of Olx and Quikr by looking at their success, but no other classified app has gained that much popularity yet. Quikr charges additionally for its premium services from businesses and users for premium listings that refers to placing the ads on top for Quikr search results. It consists of investors like Matrix Partners India, Kinnevik, eBay Inc. and Omidyar network. 
The Working Method of Quikr App 
If you want to know the Quikr app, you must know how it works? Have a look at below-
The Quikr and

Quikr clone

apps permit a fast and smooth process of sign-up and login.

Users can log in to the app and then post the free ads according to their requirements and verified contact details.

Users can also purchase or sell products such as cars, bikes, electronic gadgets, furniture pieces, mobiles, fashion items, books, and other items. 

There is available a search option also to address their preferable seller or buyer.

Chat in-private and calling options with the related vendors are available to know about the item's price and condition.

Real-time push notifications for the nearby sellers & buyers and new products.

Availability of discount offers and attractive deals.
Impressive Features of Apps Like Quikr and Olx 
Below are two different panels included in the classified mobile apps-
Admin Panel
Login via mail or social media users

Managing users and items

Tracking and handling orders

Content management 

Daily database backup

Spam prevention tools

Handling ad requests 

Managing categories and creating reports 

Payment management

Support and inquiry support

Client reviews and ratings 
Customer Panel
Sign-up, login and user profile setting

Search the item category list

Geo-based item list

Search item near the location

Sort items by filters 

Develop a wishlist

Provide ratings and reviews

Rise a query about a listed product

View or add various products

Get referral points and send invites 

Feature of social sharing 

Place and track order status 

Multiple language support

Post item listings 

Varied payment modes

The free and paid item listing 

In-app chat option with sellers and buyers
Other Features
Picture alteration helps in editing, cropping, and adjusting the images.

In-built social media login 

In-app payment 

Track the delivery status
Watch Live OLX Clone Demo 
Why is there a need to develop a Quikr clone App?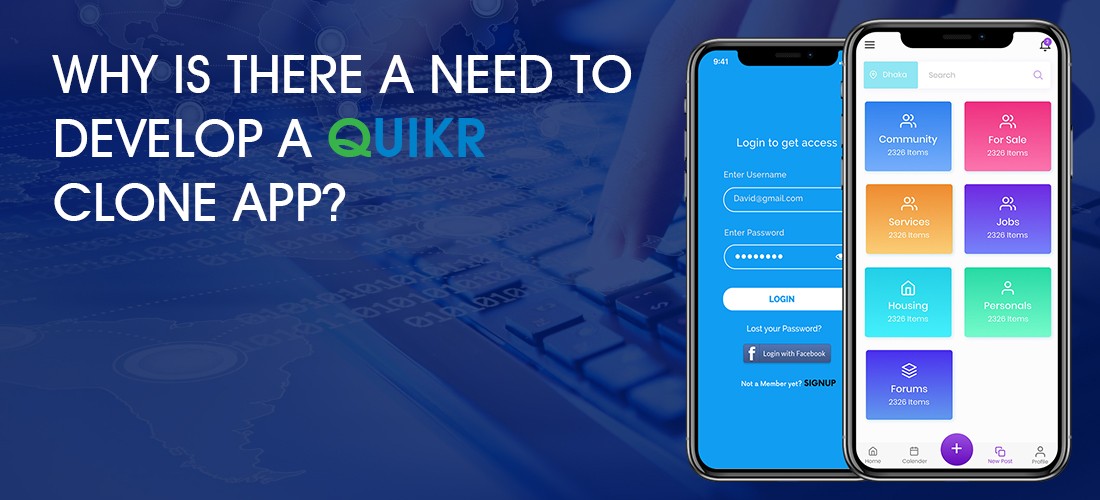 Various business persons are looking to develop the Quikr clone script as it has a lot to discover. Below are defined the needs of creating a Quikr clone app-
Efficiency
Things have become easier with the use of classified mobile apps. Users only have to register in the app to sell or purchase anything, and there are no additional charges for it. They only have to upload some of the product's photos with their specification and description. Sellers can easily find potential buyers through it. 
Business Model Scalability
Creating a Quikr clone script demands less investment and less financial risk than the eCommerce store. There is no need for inventory investment, and ventures can easily have customers and broaden the operations without much investment.
>>>Read More: How to Get On-Demand Classified App to Sell And Purchase Old Items?<<<
Easy and Convenient 
With the Quikr app's mobile application, it is now more accessible to post and handle the item's ad from anywhere. Just click the photos and upload them as soon as possible to sell the product.
Pull Off the Customers
Quikr Business Model is developed based on the varied items from different service providers or sellers, along with efficient offers and deals. It is for engaging the customers and not limiting their options to only one seller.
Consistent Revenue Stream
Created classified apps are beneficial to earn a good amount of revenue. There are multiple options for monetization that business can have. Olx and Quikr clone apps help earn huge money via the premium listing; on the other hand, some are dependent on the commission-based model. It provides great help in the revenue model of Quikr.    
Business Model- To Grow the Business of Quikr
Here are the points that will help you to understand the entire business model of Quikr into segments; take a look-
The Quikr website has all the essential features, and we can consider it a classified portal where consumers can purchase and sell all sorts of goods.

Quikr has a business model based on hierarchy and customer to customer interaction. 

Quikr gains high traffic due to huge revenue by making money based on the number of searches and clicks and by following. 

This app spends a huge money amount attracting more and more user traffic and several item listings along with greater frequency.  
Revenue Model- Monetization Techniques of Classified App Quikr 
How Does Quikr Make Money? Everybody has this question to ask, so below is the answer- 
Advert Selling
Quikr Revenue Model has a beneficial monetization strategy used by the owner of classified apps to get great revenue via showing ads for other services and products on their app. They charge a good amount in return to show the ad and get money from the advertisements.
>>>Read More: On-Demand Taskrabbit Service Provider App: Working Process, Revenue and Business Model<<<
Featured Listings
Like the Olx revenue model, Quikr applies the strategy well for specific sellers to safeguard the increased visibility by displaying in the app's top blocks. In this case, sellers pay a fee amount to app authorities.
Transaction Commission
Olx Quikr revenue model provides users with in-app payment options. So, when a consumer makes a transaction to the seller, the app holder also gets a fixed amount of flat fee or a particular part of the transactional amount. Many sellers prefer this famous revenue model as they don't have to pay for anything and get value in return.
>>>Read More: How to Start a Classified Business in India?<<<
The success of Quikr's revenue model can be estimated because the company has got funding of $352.8 million from huge names in investors like Kinevik, Tiger Global, Matrix Partners, Warburg Pincus, eBay, Norwest Venture Partners, and also Nokia growth partners (NGP). Quikr lists the people's ads for free but makes the revenue from ads mainly. Another way of making money is to lead generation from small-scale businesses and paid listing.
Quikr growth market in 2021
In the present time, we can easily see the powerful impact of online classified apps among the large customer base. The entire online ads market is predicted to evolve during 2019-2026 at a CAGR of 9.5%.
When it comes to the Quikr app, this top classified app is used by 30 million unique users each month currently. This app provides its services across 1200 cities in India and handles different domains, including education, homes, cars, and services. Currency, this company has a value of $565.70 million. These classified apps can get high revenue or profit by applying the business model of Olx and Quikr.
>>>Read More: What Are The Top Trending CMS Platforms To Build Websites Like OLX, Quikr<<<
Take a look at the revenue chart of digital classified ad apps (2015-2021 in USD million)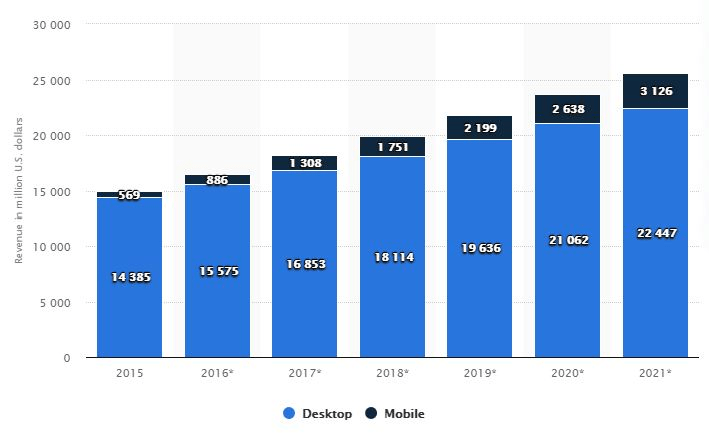 (Source)
How to Develop an App like Quikr and Olx?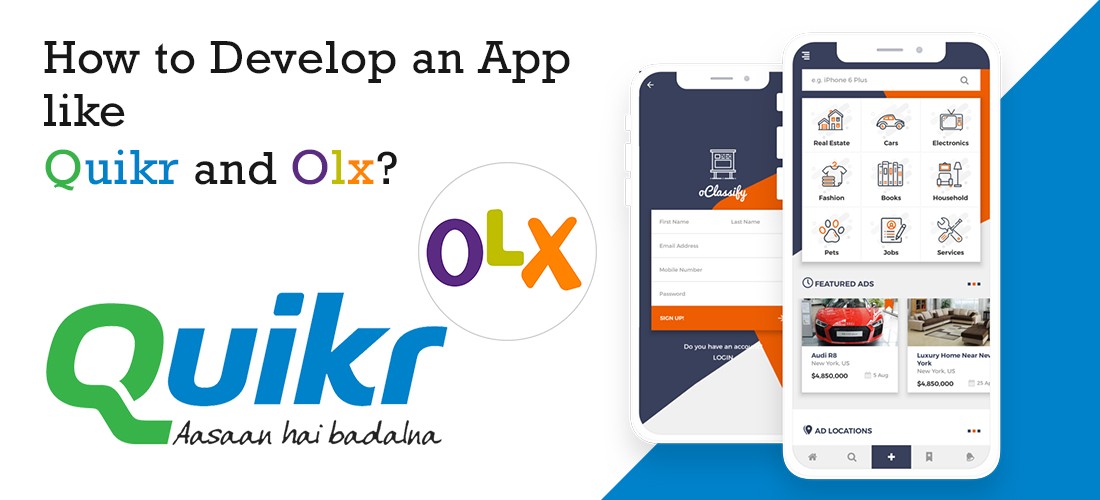 Check out the below points to develop similar apps like Olx and Quikr, and then you can also get benefits by applying Quikr or Olx business plan.
Before the app development procedure, please find out users' needs and the challenges they face with the available apps in the market. You have to do more research if you are providing an app as per the current market needs.
Your app idea must be unique from others, and it should include some impressive features for targeting a specific audience.

>>>Read More: How Instacart Grocery App Works: Instacart Business and Revenue Model<<<
Online classified apps can be developed differently with varied options and services such as Quikr, Ola, Craigslist, Dubizzle, Wallapop, Shpock, etc. or specialized only in one variety or service. You can also create an app to sell the items like laptops, mobile phones, books, tables, vehicles, etc. these apps gain a broad range of customers and sales volume. 
Finding a good idea like

the Quikr clone script

is good, but you should try out more ideas that are well-suitable to your requirements. Draw out a functional prototype and make it work via repeated tests before getting the final output. 
If you have no idea of development, you can hire the top web and app development company to change your idea into reality. 
If you are looking to develop an app like Quikr and Olx, you must know its development cost. The average Olx or Quickr clone app development cost will be between $1000-$5000. This price can vary as per the demanded core and advanced features and various factors like app development, app platform, developer's location, UI/UX designs, etc.

Searching for a Leading Mobile & Web Development Company?
Apply a full stop on your search for a suitable app development company. BR Softech will offer you appropriate, reliable and rich-feature services to satisfy the client's needs. Our professional and skilled developers will help you with app development in every possible way, as they also understand the current world's advanced needs. 
We will provide you with a Quikr or olx clone app built so that it will follow all the current market trends and be suitable as per the future trends. Join us for a better experience!