Here's what the Phoenix Four teams think about the rules for the COVID-19 concert
As performances once again become a regular staple of everyday life, safety mandates remain a real point of contention. Made some venues, including Crescent Ballroom, Rebel Lounge, and Marquee Theater Vaccinations and/or negative tests are mandatory. Meanwhile, there are places like Last Exit Live, Cactus Jack's, and Pub Rock Live They were selected from these states.
However, one important set of voices is missing from this conversation: the artists. We asked members of four Phoenix bands for their views, including the value of masks and social distancing, how these measures affect musicians, and whether they will perform based on venue choices. This is what they had to say. (Quotations have been modified for clarity).
CJ Jacobson, Fox Paper
As someone sitting here recovering from COVID [recently]I'm really happy to see places that are doing everything they can to stay open, and also everything they can to stay safe.

I certainly understand all of those, like the freedom fighters whose rights are being violated and who feel that they don't need to get vaccinated and that they don't need to wear their masks. But I think the company, the venue, has every right to say, "Well, if you haven't been vaccinated, you can't come here anymore." I think it has to be either a vaccine or nothing.
Places seem to be very much accommodated. You can get a free COVID test almost anywhere in the Valley now. Believe me, I got five in the last week. There are, for example, 17 places that have these mandates in order to keep people safe. My plan is, those are the stages we'll be playing until further notice. I feel this is a completely safe route. How can someone feel comfortable and have a good time if they don't feel safe somewhere?
I also think the places were doing a really good job [communicating mandates]. We played with Congress Club in Tucson earlier this year. They were the ones communicating and telling us they would be hosting it outside and encouraging social distancing and wearing masks. I have tickets to see a comedian in October, and I've already received emails from the place telling us that they expect us to bring our proof of the vaccine or proof of the negative test.
It is sad that we live in a country where, unfortunately, our ruler will not take responsibility and encourage people to be more responsible and shut down the state again. It has come to a point where every private company will have to do everything in its power to either encourage safety or do the blatant opposite.


Matt Shaker, cousins ​​of Deadbeat
whether that or [mandates] Increasing or decreasing the number of people that go out to shows, I have no idea. I saw people on both sides of the aisle.




I've seen people celebrate the news and post how they feel safer now. They are excited to go out and go to shows. But then I've seen people get upset because they put more regulations on things, and who likes regulations? Are there currently more people who do not feel safe attending concerts who will attend concerts once these new regulations are in place? Or are there more people who are currently attending a concert without the regulations and will now not attend those parties?
I haven't seen any place owner blatantly disregarding health or safety measures or anything like that. All places we ran, I trust the owners are safe and taking precautions. I have never operated under the mentality that I have any responsibility, or any right, to tell anyone what is good and what is bad as much as they can do and what is safe and what is not. Everyone has access to the same information that everyone else has.
We didn't take any kind of political stance or anything. Like, who gave us that responsibility? Nobody on my shows asks me what my stance is on politics or health concerns. We're talking about the inspiration for the songs and where I got this song from. It's just cognitive dissonance happening right now that everything is so polarizing. It is very difficult for a person to see a point of view that does not agree with his own. If I were here to tell everyone exactly what to do, based on my criteria, I find it unlikely that I would change a single person's opinion. They will just maintain their standards.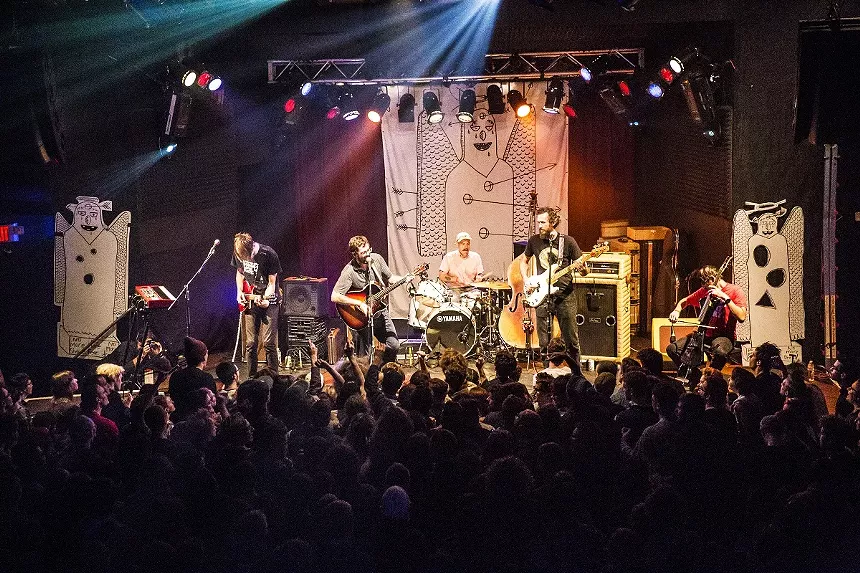 Sean Bonet, AJJ

Anyone you'll meet for this piece, I assume they're musicians. None of us are scientists, epidemiologists, or doctors. So it certainly shouldn't be up to us to impose measures for the sake of public health. We must follow the guidance of experts concerned with public health. But since America is nonsense, we will see what kind of responsibility falls on the individual.
I'm not really sure how I feel about that [concerts returning]. I don't know if teams should actually go on tour and perform. But it looks like this is going to start happening and you can either do that or just watch all your friends' teams go on tour and do it for you.
The missing piece is that no one tells us what to say. Using one's influence to try to promote public health is one thing. But in my view, capitalism stands directly in the way of 100% public health. We can lock down the country again, we can encourage masks and pay people to stay at home if we want to. But the show should go on instead, and we have to get people out.
we [recently] I decided to make our offers only vaccines, without opting out. In fact, it should probably be a vaccine and a negative test. I'm planning on being a canary in the coal mine for our bubble tour. Since singing is one of the most risky activities for spreading COVID-19, I will be taking exams daily. We're going to run a lot of quick tests around.
In light of the lack of leadership, clubs have been on board so far. We are still having those talks with the clubs we will be playing in September and October. But I would say overall, we've got a lot of support from places and from our booking agent. We haven't had any opposition yet.
One thing I can imagine [being asked] When they see our guidance, that's how we are expected to carry it out. For something like masks behind the scenes, or everyone working should be vaccinated, it can be impossible to enforce these things. But if it is not mentioned, if it is not written, we will do absolutely nothing. I think we will continue to transform as long as everyone is flexible and willing to put in some effort to make it a good experience.


James Taylor, Chrome Rhino
We certainly understand that it is a difficult situation for places to be in. But in relation to that, delegating gives them the power to execute. Leaving it optional makes it difficult for a lot of the audience who would otherwise come, but they don't really feel safe.
On the days when the numbers were so low, I felt like we had really taken a turn, and letting people make their own decisions would make the numbers go down on their own. Once you see the numbers go back up, a lot of people are given pause for it finally A turn, there will be a need to take action to ensure that people do not feel that they are in danger. What we said originally in May may be different now. We watch the news, see the numbers, and then maybe adjust our trajectories a bit.
If there's a place that really decides, for whatever reason, that they can't make those decisions, we'll keep playing because we've got vaccinated and we'll take steps to make sure we're as safe as possible. I can certainly understand this kind of inner struggle of whether or not to accept something. As individuals, we feel fairly secure in this regard, and we are happy to take that upon ourselves.
I agree that one of the good things that will come out of this whole ordeal is that we can be a little more attentive to the people around us. There are countries that have gone through similar things with the SARS virus. And now there's just a culture, "I'm going to wear a mask because I don't feel good and I don't want to pass this on to other people." This could be a turning point for us, too.
.