Greg Lynn faces trial for alleged murder of Russell Hill, Carol Clay
The double murder accused Greg Lynn sat motionless during his brief court appearance Friday morning, hours after he was charged with the alleged killings of missing campers Russell Hill and Carol Clay.
The 55-year-old father of three, dressed in a gray sweater with clean hair, appeared in Sale Magistrates Court via video link from the nearby regional police station.
Forensic documents released to the press show that police claimed that Lynn, an airline pilot from Caroline Springs, murdered Mr. Hill, 74, and Mrs. Clay, 73, at Wonnangatta on March 20, 2020.
The charges of murder followed a three-day interrogation of detectives of missing persons after specialist police were flown in by helicopter to arrest Lynn at a remote Gippsland campsite around 1 p.m. 17.30 Monday.
During a late-night press conference held shortly after the charges were filed on Thursday, Assistant Police Commissioner Bob Hill said he hoped the charges would help provide some closure to the families of the missing campers.
The senior officer also praised the efforts of the police involved in the investigation, describing their efforts as extraordinary, as they prepare to spend the coming days searching for a potential crime scene in the rugged alpine region after the remains of Mr. Hill and Mrs. Clay.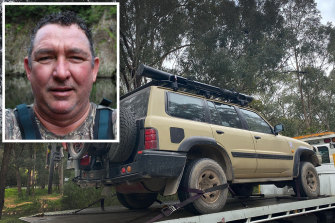 Sir. Hill from Drouin and Ms Clay from Pakenham disappeared from the Wonnangatta Valley in the highlands of the state in March last year, before their campsite, damaged by fire, was discovered by others.
Investigators are still searching for a trailer that is still missing. Officers believe Mr Lynn may have sold the trailer on the Gumtree online marketplace in the months following.