CHO Brett Sutton says COVID spread on St Basil's could have been limited
"I did not have any kind of strong and overriding assurance that it was all hunky-dory," he replied.
Loading
Professor Sutton said the health ministry instructed St Basil's chairman Kon Kontis that the home workers should be fired because many had coronavirus and could further spread the virus to residents, but there was "persistent non-compliance" with this order.
Sir. Kontis, who is not yet present in the investigation, warned health ministry officials that such a move would end catastrophically. Eventually, the home had to be instructed by the authorities to lay off ordinary staff.
"We resisted that direction as much as we could, but unfortunately Victorian public health experts, who are doctors, said this is a course we must follow," he and his center leader said in a letter at the time.
Judge Cain tries to understand why St. Basil's did not have a better COVID-19 plan, which is why Professor Sutton ordered all home staff out despite warnings that it could end badly, and why the Commonwealth – which has the ultimate responsibility for elderly care – failed to deal with the situation there. unfolded properly as it brought in the "surge" workforce.
The instruction to the home to shut down its workforce was first given by Victorian public health authorities on July 19th. On Friday, Professor Sutton said this was the right call. The replacement first entered the home on July 22nd.
"If St Basil's had implemented the public health response as requested by the department on 19 July 2020 before it was escalated to me … it would have resulted in fewer cases," Professor Sutton told the court.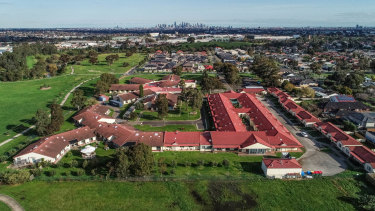 Professor Sutton was asked by lawyers for St Basil's whether he understood the allegation he was making against those who ran the home.
Daniel Gurvich, QC, acting for St Basil's, told Professor Sutton that his statement on how the events had unfolded in the home "could be read as a serious accusation you have made against Mr Kontis and the management of St Basil's. Do you understand that? "
"I understand that," Professor Sutton replied. "The refusal to follow the instructions, including a belief that staff in close contact were no longer in danger of other staff and residents as a replacement workforce, probably contributed to further transfer [of COVID-19]. "
Earlier in his study, Professor Sutton explained that he only intended that the staff at St Basil's should be dismissed if there was an appropriate replacement workforce.
He also said that his order for staff to resign so that a replacement workforce could be brought in by the Commonwealth did not contain an explicit instruction that the existing staff be cooperating with the incoming workers. "It did not occur to me that (collaboration) would be a specific direction that was required," Professor Sutton said.
Out of 237 people living and working in the nursing home at that time, only 49 did not get coronavirus. The investigation continues Monday.
The Morning Edition newsletter is our guide to today's most important and interesting stories, analyzes and insights. sign up here.