Art organizations in Arizona just received $32 million in grants from the Piper Trust
Arizona's arts sector is getting a lot of money thanks to recent grants totaling more than $32 million. The grants are part of a $123 million initiative by Virginia G.
"We've seen the way many nonprofits are working to meet the needs of society during difficult times," says Mary Jane Rinde, president and CEO of The Trust, which has been giving grants since 2000 to support key sectors. "We wanted to provide additional support to these efforts."
This is the Trust's largest one-day charitable initiative to date. They now call it the Moment, inspired by the name they bear, who have described charitable giving as "a respectful, moment-to-moment responsibility for a truly lofty appeal."
Twenty-two artistic and cultural groups will receive a total of $32,750,000. Prizes range in size from $100,000 to $7.5 million. Ten of these 22 nonprofits receive $1 million or more. The fund leaves it up to recipients to publicly disclose their prize amounts.
Organizations receiving the largest gifts include the Arizona Opera and the Arizona Ballet, each of which will receive $2.5 million. The Heard Museum will receive $3 million and the Phoenix Museum of Art will receive $4 million. Phoenix Symphony earned $7.5 million.
Several groups, including the Arizona Opera and Cultural Alliance, which received $100,000, note that these are the largest grants they have ever received.


"We are very grateful for the incredible generosity of the Virginia J. Piper Charitable Trust," says Mark Koenig, interim director Sybil Harrington and CEO of the Phoenix Museum of Art. "This latest gift, one of the museum's largest one-off grants in our history, reinforces the Piper Trust's unwavering commitment to the arts in our region and provides a truly transformative support for the Museum after one of the most challenging 60-year years."
The Piper Trust has now received Moment grants in many additional sectors, including health and human services, education, academic promotion, health care, medical research, and faith-based organizations.
So far, beneficiaries have been given extensive screening forms; Actual money will follow.


"We really want these organizations to have peace of mind and not live side by side," Rynd says. "For some, this will help keep doors open, but for others it will be able to increase the number of people they serve or undertake creative projects they have had to put off."


Rynd credits board members with coming up with the idea after seeing the growing needs in the community amid Covid-19. "They were really shocked by the turmoil of people struggling, and the fact that people who had money were making a good return on their investment."
Board members suggested potential recipients, then approved a final list of 71 grantees.
"I called the leaders of the organizations and told them that one of our board members wanted to meet with them for a few minutes to thank them for the work they're doing," explains Rynd. "We've surprised them with prizes during the meetings, and I don't think any of them have any doubts about what we're going to do."
Rynd remembers seeing the tears, and says the trust is already getting calls from recipients about ways they plan to make a difference using unexpected gifts. "Someone told me they would definitely push it forward."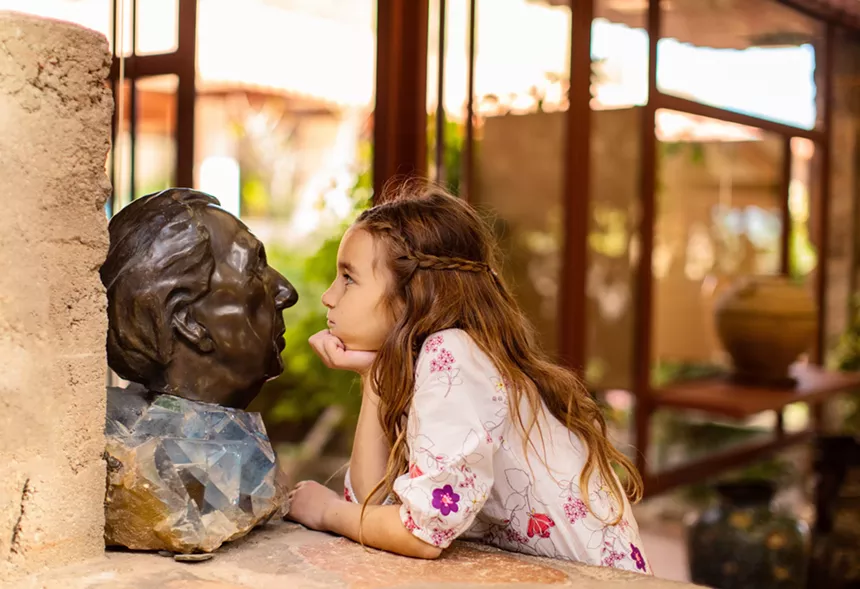 Phoenix New Times All 22 organizations listed below have been reached. Grant amounts are included for those who have shared their information as of this writing.
Act One ($250,000)
Arizona Musicfest
Arizona Opera ($2.5 million)
Arizona State University Foundation ($7.1 million for arts and education)
Arizona Theater Company ($1 million)
Artlink
Arizona Ballet ($2.5 million)
black theater troupe
CALA Alliance ($250,000)
Children's Museum of Phoenix
baby play
Cultural Alliance ($100,000)
Frank Lloyd Wright Foundation ($1 million)
Free art for abused children in Arizona
Heard Museum ($3 million)
Jazz in Arizona ($200,000)
Phoenix Museum of Art ($4 million)
Phoenix Theater
The Phoenix Symphony ($7.5 million)
Valley Youth Theater
Western Spirit: Museum of the West in Scottsdale
Zico
Rather than requiring a specific reporting structure, the fund will reach out periodically to find out how the funds are being used and the impact on society. Grants are unrestricted, which means they can be used for a myriad of purposes from general operations to launching new programs.
Other Piper Trust scholarship programs will not be affected by this initiative, according to Rynd.
As nonprofits make decisions about how to spend their windfall earnings, Rynd will consider Virginia J. Piper's passion for arts and culture. "I really believed and experienced the ways that getting together in an art space or performance lifts everyone's spirits."
.