A rum and coffee cocktail to sip on this fall season
Club Cocktail
"Let's take our tools, shake some things up, and raise a glass upside down."
Coffee has always been associated with great memories for me. I think of my late grandmother Carol, who I always think of sitting on the edge of her bed. As a child, running to the store for her was an honor. In the morning, my job was to secure the winning trio to start her day: The Daily News, Table Talk coffee cake or pie, and New York City's famous blue-and-white cup of coffee—light, sugary.
My mom is pretty much the same. Maxwell House was always in stock at home for her cup – light and nice – and when the inevitable Keurig upgrade came, my parents were so serious about java that when my mom's wedding rings accidentally fell into the Keurig at home, they waited until a new one arrived before breaking the old one to get them back. . When I think of coffee, I think of growing up to be like the women I adore; By the time I reach the age of drinking a cup or two a day, I realize that adults are a lot more than the "best part about getting up."
So, alcohol! You know, balance (joking)! While writing this (yes, on a mug), I felt inspired to grab my old index card pack since I started serving clubs twelve years ago. Although at the time we apparently really liked Southern Comfort's everything, and any "rum" was all your drink plus cranberry, orange and pineapple juice – we also really liked the coffee cocktails. Countless combinations of Kahlúa, amaretto, creme de cacao, and Baileys are written on color-coded cards, each with increasingly suggestive cocktail names as you add new ingredients.
Including an espresso martini, these days bars all over the world are enjoying the process of taking back recipes from the '90s, '80s and beyond, reviving them with fresh juices, locally distilled spirits, liquors and, for heaven's sake, storing vermouth in the fridge. The coffee and rum cocktails were delicious then, if not a bit misleading; The premise of something that can pick you up and drop you in a glass is a story I love to drink, and it's my inspiration for the upside-down side.
Use a cold drink concentrate recipe similar to Jackson Cannon's recipe cold drink cocktailFresh lime juice, old-fashioned rum, and a few dashes of Angostura bitters create a deceptively subtropical cocktail, in which coffee offers a subtle but powerful backbone to its acidic brightness. It's fun any time of the day – and if you remember the last time we met online aperol . machine gunsAnd, that definitely includes brunch—a totally caffeinated kick without the heaviness of most coffee cocktails.
In a world colored by virus, we are certainly struggling to weed out value behaviors associated with productivity, while trying to embrace relaxation and new ways of self-care and community. This may have always been the definition of finding work-life balance, but it has taken on more insistence lately, and it certainly requires us to find ways to be thankful. And for that, I'm with you – let's grab our tools, shake some things up, and raise a glass upside down.
What will you need
Upside down
Ingredients
2 oz. rum age
¾ oz. demerara coffee syrup or sweetened cold brew concentrate*
½ oz. Fresh lemon juice
¼ oz. Angostura Bitter
Optional garnishes: flower (doesn't need to be edible!) and lemon peel
directions
Cool Nick and Nora glass or coupe. Build all ingredients into a cocktail shaker. Fill the short blender with ice and shake the drink well, about 15-20 seconds. Using a Hawthorne file and a tea strainer to filter out the snowflakes, filter the cocktail into a glass. Garnish with the flower, grated lemon peel from the lemon peel squeezed over the flower.
*For demerara coffee syrup: You can use the same recommended recipe for a sweetened cold brew concentrate, replacing the simple syrup with 1:1 demerara syrup.
---
Join the next virtual cocktail class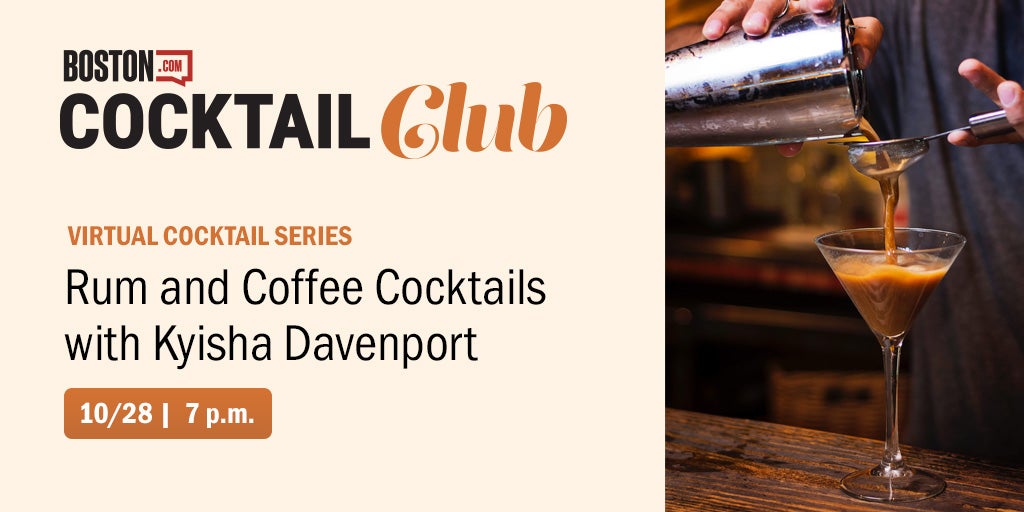 Join us Thursday, October 28, 7pm for Boston.com Club Cocktail With host Jackson Cannon and special guest Keisha Davenport, founder of BarNoirBoston, contributing writer for Edible Boston, and former bar manager at sleep in Somerville. This week we'll be making rum and coffee cocktails, learning about the Boston restaurant and bar scene, and sharing tips the pros use to make great drinks at home. We will mix a cold drink cocktail and upside down. Everything you need is in the shopping list Here.
Stay up to date with the Cocktail Club
Catch up on the latest virtual classes, recipes and tips from local bartenders in your inbox.