A new vanguard is reshaping the art world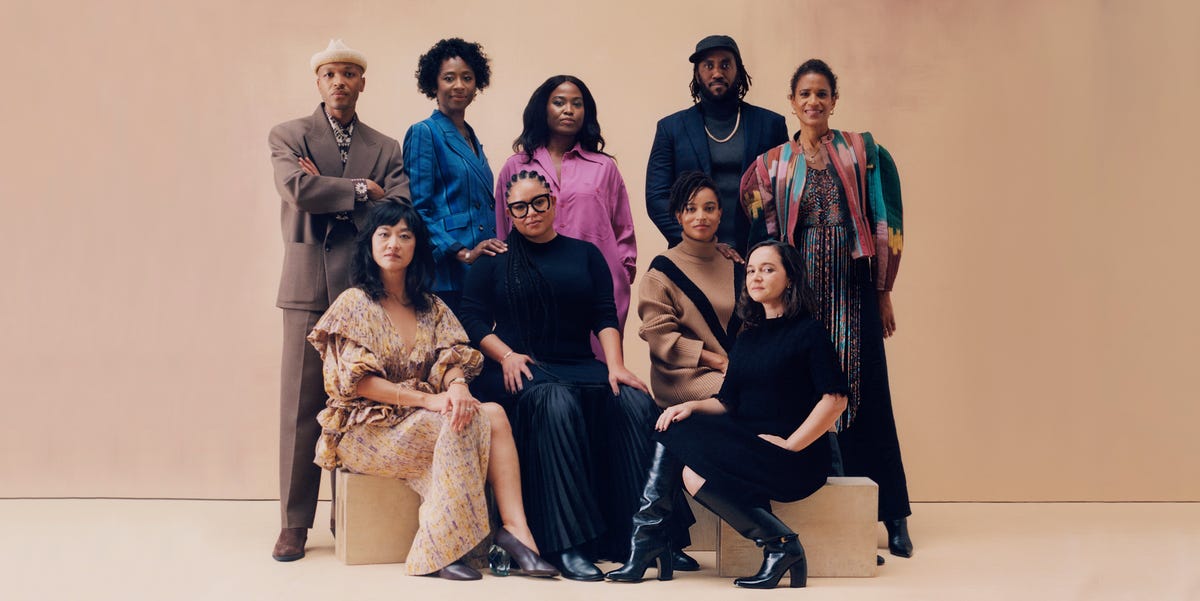 One afternoon in late October, Kristen Y Kim, curator of contemporary art at the Los Angeles County Museum of Art, methodically mopped the gallery floor with her iPhone, providing an impromptu virtual tour of the new exhibit she's attached to. The exhibition, "Black American Portraits", was designed in honor of the late LACMA curator David Driskell's 1976 exhibition "Two Centuries of Black American Art" and a sequel to portraits of Barack and Michelle Obama, by Kehinde Wiley and Amy Sherald respectively, currently on display at the museum as part of Their tour across the country. "Can you see this?" Aiming the lens at an angle, Kim says, she accidentally snaps herself through the front camera. Kerry James Marshall's painting appears in the show. It lingers on the image of Diana Lawson. Museum staff think about it, installation works at hand, with brown paper clips as backup rolls for those not yet arriving.
This kind of digital mediation with art has become a must during the Covid-19 pandemic. But the disasters of the past twenty months and the national reckoning on race have necessitated a wholesale rethinking of how art is commoditized, nurtured, and experienced. The curtain of the art world, traditionally a bastion of high cultural power, was lifted, revealing the stitches and seams that held it together. "It highlighted how much the social landscape informs or expands discourse in the art world and that such events do not just occur in a political or activist bubble, but are part of the complex American story," says Nicolas Fassel. A veteran of the influential Deitch Projects gallery of early 21st century New York, Wiley began his career. Fasil opened her own space in the High Wattage Exhibition District in Chelsea last May with a show by photographer Ming Smith. "We are at a unique crossroads to reimagine the present and history as something more multifaceted than a conqueror enjoying conquest."
There was never a single art world, rather there were many constellations and microworlds with disparate centers of power and sub-cultural areas with financial influence. There are far too many museums that have not represented the communities they claim to serve; It is difficult to shake their history as colonial projects and racist exploitation. But Kim and Vassil are part of the vanguard of curators and filmmakers intent on reshaping museums and galleries in a more equitable and inclusive way.
Kim, who came to LACMA in 2009 after nearly a decade at the Studio Museum in Harlem, was recently appointed curator of North American art at the Tate Modern in the UK as institutions struggle to find their way forward, Kim says, from Among other things, you'd like to see the hiring of artists with less formal training and more transparency than board members, trustees, and others in positions of authority. "More artists from underrepresented communities, more examination of complex social issues, more representation of incarcerated or imprisoned artists," she says, marking her post-pandemic wish list. "More of everything."
There is little desire to "return to normal". According to the Artnet Price Database, a comprehensive archive of auction results over the past three decades, of the $180 billion in artwork sold in the global auction market between 2008 and 2018, only $2.2 billion, or 1.2 percent, were from by American artists of black origin. And one artist, Jean-Michel Basquiat, took $1.7 billion of that total. Latinos make up nearly 20 percent of the US population, but institutions in the country have been slow to acknowledge their cultural contributions. A 1994 internal study conducted at the Smithsonian Institution described exclusion as "deliberate" and "systematic." In December 2020, after decades of lobbying, Congress finally approved the creation of a National Latin Museum in Washington, DC, and artists of color are still far less likely to obtain their work from museums for their permanent collections.
Last summer, New York-based critic and curator Antoine Sargent, who was appointed director of the giant Gagosian Gallery last winter, unveiled "Social Works," an expanded group show at Gagosian's groundbreaking gallery Chelsea that explored the relationship between space and social connection. Practice and exhibit the work of black creatives such as Theaster Gates, Lauren Halsey, and Sir David Adjaye. "Everything happening now and in the last year is great, but it's still incredibly lopsided," Sargent says. "Correcting requires that you only collect black art for the next four hundred years to correct this—exclusively. The absurdity of that shows you the absurdity of this current predicament."
Naomi Beckwith was appointed deputy director and chief curator of the Solomon R. Guggenheim Museum and Foundation last January, coming from the Museum of Contemporary Art in Chicago. Like Kim, she spent early in her career at the Studio Museum in Harlem. Beckwith was also among the advisors to "Sorrow and Complaint: Art and Mourning in America," an exhibition at the New York Museum in early 2021. Designed by the late Nigerian curator Okoye Enwezor, it is a timely meditation on the country's ethnic past and gift. "This is the first time that calls for change within museum institutions have been as broad and urgent as calls for greater social justice in our world," Beckwith says. "But everyone – from artists to every museum employee, from directors to curators – has now heard the call and will have to make decisions based on that. We are at a critical and vulnerable moment as institutions and these are the moments that require the most care and insight on how to restore trust with our artists. and our audiences and with each other. But I have great hope that there will be a sense of alignment between where museums need to go and where the world needs to go and there is no going back from here."
"I think the pandemic, the 2020 election, and the fight for racial justice in the wake of the killing of George Floyd have been a huge cause of the pause and an 'impressive reset,'" says Isolde Brillmayer, who was appointed deputy director of the museum's new in July and also serves as coordinator. Senior at the International Center of Photography Brielmaier's career includes more than two decades of institutional, academic and private sector experience, as well as working with artists such as Wangechi Mutu, Carrie Mae Weems and Tyler Mitchell. "There was a feeling that the world wasn't working at its best," she says. "And many of us have known this for a very long time. I think there is a feeling – on the part of galleries, museums, etc. – that we cannot continue business as usual, because it is not working and will not push us to think forward that is meaningful, inclusive, innovative and sustainable. People must embrace change, systems must be reformed and rebuilt, culture must change, and everyday work must undoubtedly be different."
"It's complicated, but what is most remarkable is the number of people entering places where they have actual decision-making power, influence and independence, where there have been no black people and POC before," says Joeonna Bellorado-Samuels, director at the Jack Scheinmann Gallery in Chelsea, who Representing Marshall, Wims, and Mitchell, he was a party to a dramatic change of galleries in New York. "It's about getting people into positions where they can have a real impact."
It's a transformation that Brooklyn-based artist Rashid Johnson, whose interdisciplinary work resides in permanent collections at Guggenheim, LACMA, MCA Chicago and the Whitney Museum of American Art, says is vital. "Over the past few years, we've seen a lot of black artists adopt a more mainstream narrative," he says. What was missing was representation at the senior leadership level. With enough changes at the top, we will never have to question whether black artists will be given voice and space within cultural institutions."
For Susanna F. Timken, curator of the El Museo del Barrio in Spanish Harlem, who has maintained close ties with the city's diverse Latino and Caribbean residents, fostering a strong sense of community is also critical. This year, El Museo conducted its first triennial survey, "Estamos Bien," a survey of more than 40 Latino artists from the United States and Puerto Rico. "More than anything, I am excited and optimistic about the sheer talent of so many Latin artists working today," Timken says. "I am also encouraged by what I feel as a new desire for collaboration between institutions and peers across the art field."
In the pre-pandemic period, changes were already underway in the art world: greater recognition of the power of youth and media savvy; the mingling of high and influential art; Constant criticism of those who matter anyway. It is also impossible not to wonder if what we are witnessing now resembles the "glass slope" phenomenon observed in technology and other industries, whereby junior employees are promoted to leadership positions in times of crisis. But for the art's nominal gatekeepers, greater transparency could mean a new level of accountability.
"I am cautiously optimistic about the long-term project and the many ways in which the vision could emerge," says Rojiko Hockley, Associate Curator of Whitney (and another alum of the Studio Museum). Hockley, with co-curator Jane Panetta, oversaw the 2019 Whitney Biennale, which examined in part the themes of race, gender, equity, and history. "Different generations have pushed for artists to be more fully represented through exhibitions and acquisitions. Looking at almost any museum in the country, you can see that there have been real strides in those spaces. But there is a lot on the curatorial and educational front that needs to change." "We have to think about what kind of museums we would like to have."
---
Poetry: Ilker Akyol Kerastase Paris. Make-up: hill cut Glitter.
This article originally appeared in the December 2021/January 2022 issue of Harper's BAZAAR, available on newsstands December 7.