After surviving the bad phase of COVID-19 pandemic in 2020, it has left the entire world to get over the crisis in 2021. But there are still some industries or sectors such as online sports and gaming, medical, insurance, etc. that got an upsurge in their business growth due to the pandemic. 
In the pandemic time, Fantasy Sports app development companies got great responses from the audiences. We can see the current wide scope of the daily fantasy sports industry in India. Are you also looking to invest in Fantasy sports apps? But what is the thing that attracts you towards this industry? According to us, the huge market growth of the fantasy sports industry is the main reason why investors come to this sector? 
Introduction to the Fantasy Sports Industry and its Market Growth
Fantasy sports are related to the sort of games consisting of virtual or imaginary sports teams with real-time players playing different sports. These virtual sports teams play against each other like real gameplay. These Fantasy sports now include multiple sports developments like Fantasy Tennis App Development, Fantasy Baseball App Development, Fantasy Cricket App Development, etc. Firstly it was played only by a group of people, but then, it got the attention of big names in this field like CNN, ESPN, etc. 
>>>Read More: Need Fantasy Sports Platform with Advanced Features<<<
At first, you have to do team drafting that is choosing the team players and compiling real-time game statistics. Players can track their team via fantasy sports mobile app or software. Fantasy sports have a different playing concept; that's why investors are attracted to this profitable industry.
Before investing your hard-earned money into the fantasy sports market, it would be better to have some insights into its market growth. As we have told you, baseball, Cricket, football, Tennis, etc. are popular sports. The Football market segment holds the maximum market share, but if we talk about Cricket, it is also expected to evolve with the highest CAGR of 17.9% from 2021-27.
Based on platforms, the entire mobile app market is divided into the mobile app and website. When it is about market share, mobile app development is leading. As per the reports, this part will have the highest CAGR of 14.8% between 2020-27. 
There are chances to introduce more fantasy sports apps in Fantasy Kabaddi App Development, and many others as the fantasy sports market is the fastest developing ventures worldwide. Different studies forecast market size to go to $48.6 billion by 2027. (Source)
Things You Need to Do to Start a Fantasy Sports Business in India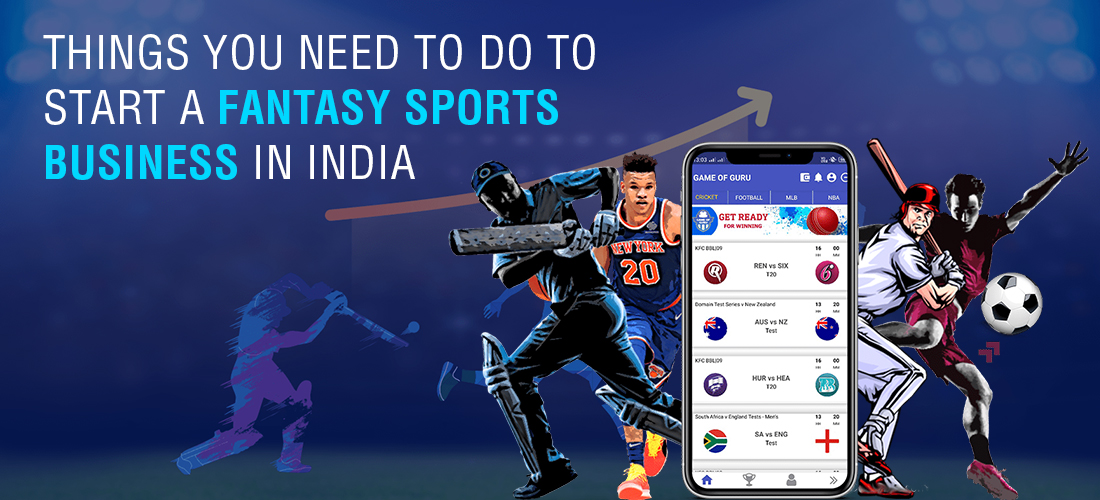 There is a complete list of important factors to look at while starting a Fantasy sports business in India. Take help of it and be the next leader in the fantasy sports market by developing Fantasy App Clone Scripts–
The Goal of Your Fantasy Sports Business
Be it business or anything; you must have a purpose or goal behind it. In the business, where you put all your money at once, you must have some solid goal to achieve through it. Apply fantasy sports business's revenue model to engage your users in your game app by having all the aspects to refine your branding. 
Market Analysis
If you want to have a successful fantasy sports business, do proper market research and analysis first. Whether it is Fantasy Football App Development or anything else, you must know its history, current and estimated future records. Also, analyze the market competition and find out which sport is the most popular? 
Have a Detailed Plan
It is not possible to begin a venture without having a road map or a complete plan. So, start making a list of essential aspects including your business budget, audience, must-have features, teams, top sports and leagues, etc. to integrate into the app. Now, have a deadline to complete the development of Fantasy App Clone Script. 
Stand out with unique features and the right platform
Make your unique proposition by including unique features and plugins. Have the right app platform for your fantasy sports business to get enough user engagement. The blend of both the amazing mobile app and website platform will provide huge benefits to your business if you have decided to launch a fantasy sports mobile app like Dream11. 
Game Format and Rules
You can decide whatever game rules and formats you want to have for Fantasy Hockey App Development or any other sport, to bring more customers to your business. Have mixtures of top sports app's features for sports enthusiasts. Also, select a trustworthy data provider to handle fantasy sports apps. You can choose between Stats Inc, GoalServe, SportsRadar, and FantasyData. 
App Launching and Marketing 
The fixed-format of fantasy sports business launch introduces the website to your audience and then, the mobile app. Decide on a proper pre-launch strategy or have guidance from your hired fantasy sports app development company. 
After the launch, apply suitable marketing strategies to mark your presence in the market. You have to do more hard work for less popular fantasy game developments such as fantasy rugby app development, fantasy nba app development, etc. you have to do more hard work as these are less popular. Try anything among mobile, search engines, social media, electronic media, radio, etc.
Essential Aspects to Add to Evaluate the Fantasy Sports App's Cost
Take a look at below to know the aspects that can vary the final price of the Fantasy sports app –
Desirable App Features
Here we are presenting the list of must-needed fantasy sports app features below-
User panel
Sign up or log in

Home screen

Contest or join the contest

Different payment mode

Generate your contest 

User dashboard 

My contest 

User Settings
Admin panel
Admin sign up/log in

Dashboard and user manager

Managing all the games category and matches

Contest manager

Payment management 

Handle cash bonus and reward points 

Reports management

Bank withdraw request handling 

Manage CMS page
Some of the extra features
Live score API integration 

Live match score 

Push notifications 

CRM integration 

Custom mail reminder system

GPS location tracking 

Real-time analytics 

Payment system
>>Read More: Features & Cost for Fantasy Cricket App Development Like Dream11 <<<
Needed Tech Stack for Fantasy Sports App Development 
Applied technologies are the reason how your app will perform. Here is our suggested tech stack-
Database management– MySQL, MongoDB, Cassandra, PostgreSQL, MailChimp Integrations, HBase
Framework & Programming languages– React Native, Java, Flutter, PHP, Kotlin, or Swift, C
Cloud– Azure, Google Cloud
Front-end- CSS, JavaScript, JQuery, Bootstrap, ANgularJS
Push Notifications– Apple push notifications, Twilio
Payment integration– Stripe, PayPal, e-wallets, PayUMoney, etc.
Hire Fantasy Sports App Developers can provide all these above and apart from these, the aspects that can differ the app cost are- app platform, app design, app developer's location, etc. According to these, the Fantasy Sports app development companies' evaluated cost is from $20,000 to $50,000. This cost can vary up and down as per your needed features and other things.
Start Your Fantasy Sports Business In India with Us!
Currently, Fantasy sports software development is in high call by users, and we understand your needs. At BR Softech, we have dedicated and qualified developers and designers who work hard to provide you with quality solutions. Various sports have a strong presence in the market, such as Fantasy cricket app development, fantasy basketball app development, fantasy football app development, etc. 

We provide every sort of development to our clients at less price comparatively. To get success, it is necessary to hire knowledgeable and experienced fantasy sports app developers. Our developers have that capability to stand out from the competition in the entire market in all situations. Contact us to get to know more about these fantasy sports apps or website development services.